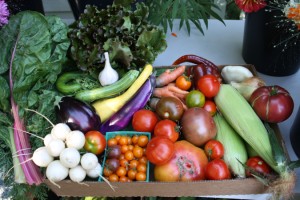 I don't know friends, I'm at a loss this week of what to say. The farm has been beautiful. The trellising is practically falling down from the weight of so many tomatoes. The zinnias bloom with bright colors like skittles, the statice with its delicate hues of blue, and the frosted explosion grass with explosions of frost. We're not big weeders, Willow and I, and so quite a few puddles of purslane dapple the landscape as well. The eggplant are loaded (is it redundant to say eggplant plant?). The grass in the pasture has dried a golden amber. And I am mostly happy, content with the everyday stuff of living, missing the one I love, loving the life i lead.
No theme this week for the newsletter. No poignant stories or farm gossip really either (with Willow on vacation I mostly just talk to myself). I just feel fine, and that is an alright feeling to have. Today, with the help of some friends, I finally finished the deer hide I started tanning last fall. My trailer fills with the smell of woodsmoke and the finished hide lays over my chair. There is something completely engrossing about working a hide, and today I found myself deeply engaged in the present moment to a degree I don't always experience, even on the farm. There is a way in which working with natural materials, on nature's clock, slows down everything before and blurs the importance of an after, leaving only the responsibilities of the moment – feeding the fire, watching the hide, and sitting on upside down milk crates with friends, idly discussing the changes of fall.
So fine. Life is a beautiful thing these days. It is picking eggplant plants and sewing deer hides. It is loving someone so big and watching that love challenge me to open up even further. It is feeling grateful for my community at large, and for the love that jumps oceans and state lines to connect me to those that don't live here. It's also honey dripping and manzanita berry picking, closing in the chickens and falling asleep to the crickets, today's tranquility and yesterdays agitation. Yep. That's it. Time for bedtime. Make ratatouille and be happy.
Love,
Maisie
 Anticipated Harvest:
Basil
Lettuce
Summer Squash
Onions
Greens – Kale/Collards/Chard
Bok Choi/Tatsoi
Cucumbers
Beets?
Corn
Tomatoes!
Eggplant
Peppers
Recipe: Ratatouille!
In case you have forgotten this simple pleasure, the variations are endless and the ingredients abundant this time of year. Here's one idea, which you can cook in a cast iron on the stove top, stirring occasionally, of you can bake in the oven too. Shredding cheese on top ain't bad either.
1 medium eggplant
2 small zucchini
1 medium pepper
1 medium onion
2 medium tomatoes
1/4 cup olive oil
1 1/2 tsp salt
1/4 tsp pepper
1 garlic clove crushed