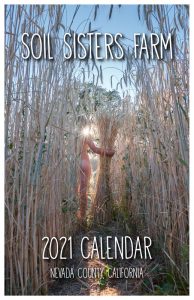 Available for Order Now : www.lusciousfarmers.com
I don't know if the fact that it was a pandemic most of the year helped or hindered my process – maybe a bit of both. But regardless, it has been a challenging year, and I for one am excited to open up a new calendar in 2021. Not that we all didn't learn a lot this past year. We had our compassion and patience tested and expanded. We had the opportunity to get more politically involved and stand up for justice. We had the chance to connect in new ways with family and friends and the world as a whole. We learned how to sacrifice things we hold dear so as to protect others more vulnerable. But I'm ready for a new chapter, and part of that is putting some positive and creative energy into this strange little project of mine, now in its fifth season, where I go out into the fields of the hard-working farmers of Nevada County, and have them in their natural habitats, as well as au naturel, showing off the beauty of small-scale, sustainable agriculture.
I am, as always, indebted to the farmers, for their enthusiasm for my project, but more so for their dedication to growing and tending to vegetables, grains, flowers, herbs, milk, meat, and honey – despite a world-wide pandemic – and thus literally nourishing us all in a time of uncertainty and need. I have long been involved with the advocacy work of training more farmers, those who will not only work tirelessly to do something important and life-giving with their hands and hearts, but who also work to feed their community's souls. Photography is part of this. Activism on behalf of marginalized communities is part of this. Mentorship of other farmers is part of this. Educating themselves and others about food access, land ownership, climate change, regenerative practices, indigenous knowledge, seed sovereignty and so much more – is all part of this work. So gratitude to the farmers – may this photo project inspire more folks to take up the digging fork and grow food; to support local, sustainable, and humane agriculture; to fight for justice in our food system, and to spend time outside, with the sunlight on their skin and the soil on their bare feet.
– Maisie
Order your copy now! $20 each! Ordering 3 or more calendars? Only $15 each! If you buy one for yourself, and one for a friend, you might as well buy a third for your uncle's cousin's daughter-in-law, cause it's only an additional $5 for the extra calendar!