Real Farmers. Real Food. In the Nude.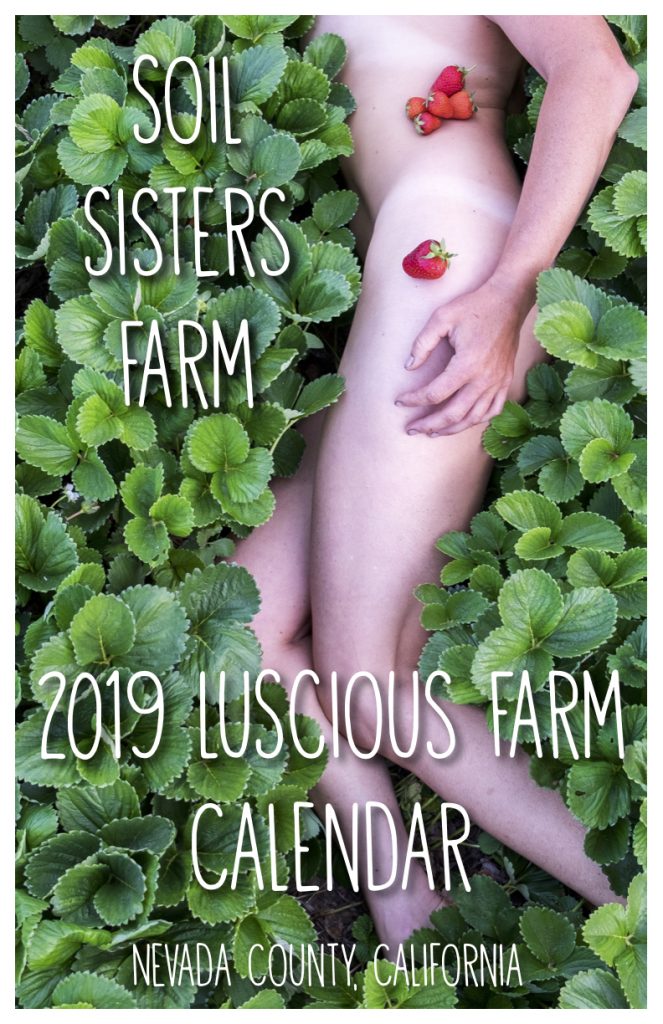 I am pleased to announce that the 2019 Soil Sisters Luscious Calendar is not only here, it is now available to buy online at www.lusciousfarmers.com. It only took me 2 years (sorry about that 2018) to complete, but it was worth the wait. I managed to convince more than 23 local farmers to show me their fields, get in the buff, and let me photograph them in any number of glorious backdrops, and with the marvelous fruits and flowers of their hard work. I feel particularly proud this year, after giving birth to a human, and taking into account all the trials (and of course delights) of new motherhood, I still managed to make this calendar. I think in years past I have called this project a "labor of love." Surely, it still is. Though I no longer use the word "labor" lightly, and instead will more aptly deem this a mere "exercise" of love. Let's just say, I never felt like I was dying while I made this, or that the calendar was stuck at 7 centimeters and was never, ever going to make it out.
I could not have done this without so much help – mainly from my baby, for inspiring me to keep on creating the kind of world I want to leave to her (a world with vulnerability, creativity, joie de vivre, and the freedom to be naked in the mountain air), and to my husband, for taking care of said baby while I did my work, and helped me beyond measure with the trickier parts of editing, layout, and marketing, not to mention creating a website from scratch like the baller that he is. A thousand thank you's to the farmers who went a little (or a lot) out of their comfort zone to let me find these beautiful images (and to those that were quite comfortable, all the same). I am so grateful to live in a county with such a spirited community of organic farmers. Our farmers are bad-ass – they do the daily work of coaxing food and flowers from the soil, work their butts off, and are passionate about taking care of our planet from the ground up. They do this each and every season, not often turning a large profit, but living a good life while at the same time feeding us all. So thank your local farmer (hey, you can get them one of these calendars as a token of your appreciation!) and enjoy looking at these sexy farmers in the coming year of 2019.
May your holiday season be bright, peaceful, and generous. May your upcoming new year be one of connection, compassion, creativity, and just the right amount of tasteful nudity.
Please visit me at www.lusciousfarmers.com to purchase the calendar as well as order individual prints! Thank you for your support!
With love,
Maisie