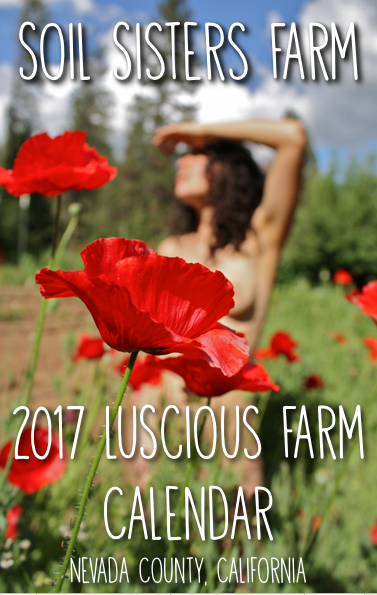 And this year it is better than ever! 12 months of beautiful local nevada county farmers, their equally beautiful vegetables and flowers, and a whole lot of tasteful nudity. I am proud to say this year's calendar is not only beautiful in format and photo, but is also printed locally and on 100% post-consumer recycled paper. Recycled, local and naked – now that's a calendar to feel good about!
Photography, layout, and design by Maisie Ganz, with huge thanks for the willingness and creativity of our Nevada County farmers-turned-models, Josh Horniak for support with some of the more difficult editing and layout, Brenna Lanton for her assistance on two of the photo shoots, and Jared at Grass Valley Printers for the professional printing and easeful communication. After a year of photo shoots at dusk and dawn, lots laughter and learning, it is my honor and pleasure to represent our community's incredibly wonderful (and conveniently sexy) farmers in the asthetically pleasing and ancient form of the calendar.
Even with the local printing, the new modern 11×17 format, and the 100% recycled paper – this year's calendar will be priced the same as last year's – only $20 per calendar, and for those buying 3 or more, only $15 each! So if you want one, and want to get one for a friend, you might as well get a third for your grandma, cause it works out to being only $5 for the third. To order please send an email to me at soilsistersfarm@gmail.com with how many you'd like to pre-order (I will be printing the first round this week – Let me know asap, though there will be opportunity for future orders). I will set up a convenient pick up and payment exchange downtown in the coming weeks. For those of you out of town, please include your mailing address in your email and if you would like your calendar(s) to be shipped to you (I will have to add shipping, sorry!). Makes an excellent gift for the holidays and the new year!
(A sneak peak into some of the months….)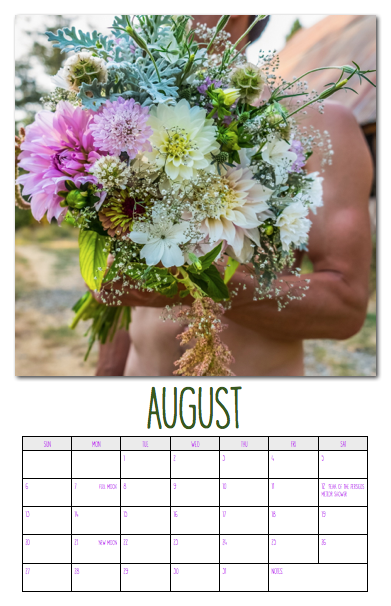 Spread the farmer love and buy one for your home and for the food/farm lover in your life!
Love,
Maisie