spring is in the air, and the farm is back up and running. the seedlings in the greenhouse look amazing. vibrant, fast-growing, green – a definite improvement over lasts years struggles. in the ground we've already got carrots, beets, snap peas, and two rounds of salad mix up and weeded. the resident hawk is back, dive-bombing for gophers. the less stealthy geese are back as well, the pair of them, and they honk over our field daily, en route to our neighbor's pond. one of them seems to have arthritis in it's wings. it creaks when it flies. is that a thing? google comes up with no results when pairing geese with the dreaded disorder of joint inflammation. but it does pin their lifespan at 10-24 years, which would seem plenty of time to get a little squeaky in the bones.
the rain has returned, and the cover crop is all shiny and tall. the handful of super expensive peony plants we bought last fall are sprouting up strong. the stinging nettle is back with a vengeance, and i cook it with my greens for a medicinal boost. i mowed the paths around the fields last week, so everything feels clean, abstractly straight, like a perfect soccer pitch. something about the way the field looks post-mowing makes me inordinately happy. so all in all, the farm is looking good. i'd say that the only casualty of this winter were the dahlias.
duh duh…duuuuuh…
the dahlia debacle
a heavy freeze in december decimated our dahlias
driven to decay, definitely debilitated,
oh what a deplorable decision that delivered our dahlias to such a dismal death!
desperately we dial-up the dahlia directory,
demanding our desired dimensions of up-dated dahlias.
days develop into days
we dream of dependable delivery,
devoted we are,
to the distinguished dahlia.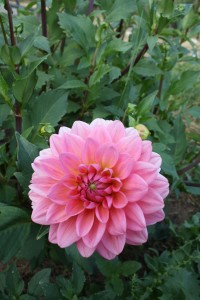 anyways. we have put about a half dozen crates of the least damaged of the lot in the greenhouse, and each day we attempt to water their half-decaying bodies back to life. yesterday i saw the first little sprouts of life on one of the roots. its a miracle! never mind the irony, that upon peeling back the little home-made label, we found out that this lone surviver is a member of our hands-down least favorite variety. but it's ok. we just ordered a whole bunch of new ones, with names like "seduction," "soulmate," "blackberry ripple," and "tahitian sunrise." it was a blow to our inventory to lose so many, but i'm excited for some of the new varieties were likely to see this year. as long as we have my favored "moonrise kingdom," (see above – not it's official name) everything will be ok.
because, in case we forget, death and decay are part and parcel of farming. thing grow, things die. those dead things we put in piles, or leave to rot in the fields, and they become the soil of new life. even when things live, growing up into beautiful flowers, we pluck them at their most tenderest zenith, make arrangements out of them, and admire them on our kitchen tables. until they too, die, and decay, and un-tended to, turn the water in the vase into a liquid creature onto itself. we then plug our noses, and dump the whole lot, soggy stems and putrid water, onto the compost pile.
wah la. magic. death is magic and little sprouts arising from almost dead dahlias are magic. so thank you god, biology, worms, and willow for making it all possible.
love, maisie