Our Offerings
Simple, Local, Beautiful!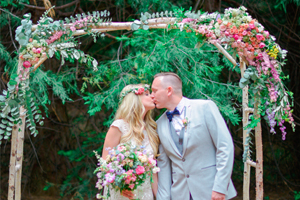 Full Service
We work with you to develop a floral design plan that integrates your vision with our locally grown blooms – includes delivery and installation.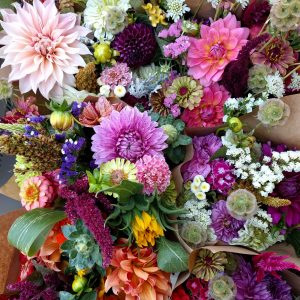 Buckets
Bulk buckets of locally grown in-season flowers for do it yourself couples. Buckets start at $105/bucket.
Our Flowers
We grow all of the flowers we use in our wedding design – meaning all of your flowers will be 100% organic, sustainably grown, and picked fresh for maximum vibrancy and longevity.
We are a small farm and florist and involved with all aspects of our business, from planting the seeds to arranging your bridal bouquet – meaning our design work and floral offerings are deeply connected to the land we farm and our passion for flowers.
We are inspired by our daily work and have a deep appreciation for seasonal flowers – meaning we serve our clients with our whole hearts, and we bring that joy to making your wedding florals perfect. We are available for weddings and events late June- late September only. 
Update – SPRING 2023 – We are continuing a sabbatical from wedding flowers and will not be booking full service or a la carte for 2023.
If interested in Bulk/Wholesale flowers only, please email us. We are not offering consultations so please come to us with your exact # of stems and/or buckets needed (after doing some fun math!). Bulk Buckets are 100-120 stems of a mix of focal and filler flowers, best of season and a real diversity of varieties. We do offer wholesale flowers for florists (variety specific bunches/buckets) – minimum order for Bulk/Wholesale – $300.

For a list of flower availability by month click here.

Photo Galleries
Cat and Travis // Leanna Jean Photography
Jennifer and Nathaniel // Greg Petersen Photography
Susan and Brad // Dee and Kris Photography
Liz and Scott // Bowerbird Photography
Ariel and Donovan
Elizabeth and Rob – Athena Kalindi Photography